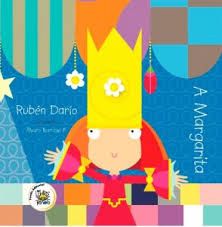 A Margarita
Format: Hard cover

Author: Ruben Dario, Alvaro borrase

Release year: 2016
ISBN 9789992467688

Language: Spanish
Publisher: Libros para niños

Ruben Dario tells Margarita the tale of a princess that escapes from her palace in the search of the star of her dreams. A real classic of universal poetry presented in this book with a modern and colorful change of image which breaks of the mold of the traditional princess in the fairy tales.
---
Ruben Dario le cuenta a Margarita la historia de una princesa que se fuga de su casa en busca de la estrella de sus sueños. Un verdadero clasico de la poesia universal presentado en este libro con una propuesta visual moderna y colorida que rompe el molde tradicional de las princesas de los cuentos de hadas.

Reviews