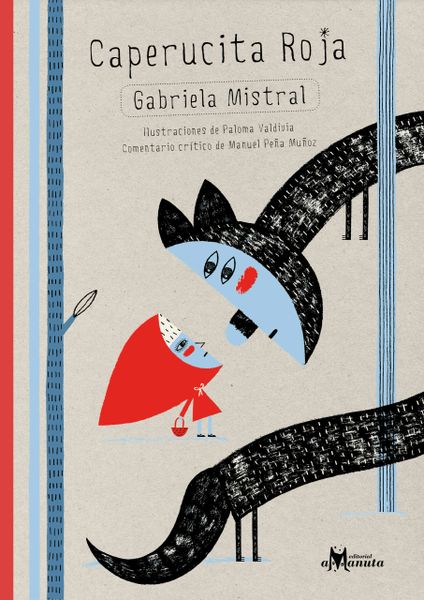 Caperucita Roja
Format: Hardcover
Author: Gabriela Mistral and Paloma Valdivia
Release year: 2012
ISBN 9789568209780
Language: Spanish

Awards:
Most Beautiful book award by UNESCO, 2014

Honorary mention category "Los Imprescindibles de la Biblioteca" by Banco del Libro, Venezuela, 2014

Honorary mention category "Acierto editorial" by Banco del Libro, Venezuela, 2014

Honorary mention category New Horizons at the Bologna Children's Book Fair, 2014

Selected by The White Ravens list in Germany, 2013
Inspired by the legendary Tales and Stories of the Past written by Charles Perrault in the 17th century, Gabriela Mistral wrote her own "Little Red Riding Hood," which was first published in 1924, in the poetry volume entitled Ternura. Written in verse, Mistral's version is faithful to the original, neither sweetening nor altering the ending.
Editorial Amanuta has rediscovered this poem and published it in the form of an illustrated book that lends a contemporary aesthetic to this classic story. Illustrations by Paloma Valdivia.
------------------------------------------------------------------
Inspirado por la leyendarias historias y leyendas del pasado escritas por Charles Perrault en el siglo 17, Gabriel Mistral escribio su propia version de "la capeluscita roja" la cual fue publicada en 1924, en el volume de poseia Ternura. Escrito en versos, la version de Mistral es leal a la original, sin alterar el final.
La editorial Amanuta ha redescubierto este poema y publicado en la forma de un libro illustrado la cual le da un aire moderno a esta historia.

Reviews