Confesiones de un vampiro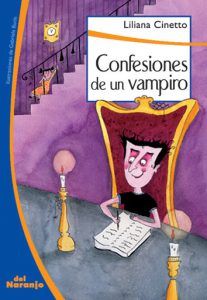 Confesiones de un vampiro
Format: Paperback
Author: Liliana Cinetto and Gabriela Burin
Release year: 2013
ISBN 9789871343188
Language: Spanish
Publisher: Del naranjo
A novel which will keep the children with their eyes glued to the book with its handufl of topics such as love, adolescense, growing up, and also the protagonist is a vampire whose family integrates in human society which will unfold unexpected dangers ahead.

------------------------
Una novela la cual mantendra a los niños pegados al libro con sus muchos temas como amor, adolescencia, madurez, y el protagonista tambien es un vampiro. El y su familia se integran en la sociedad humana lo cual va a traer peligros que no se esperaban.

Reviews