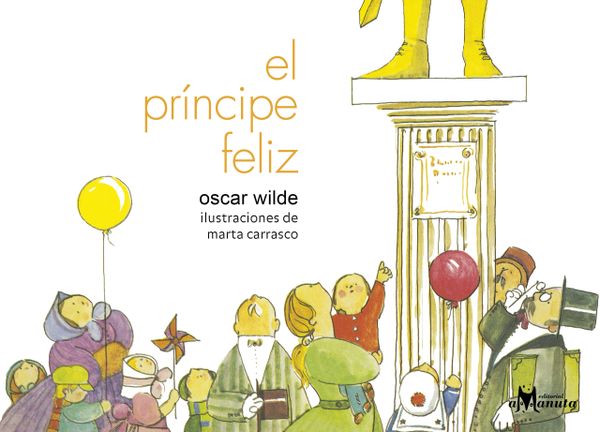 El Príncipe Feliz
Format: Hardcover
Author: Oscar Wilde
Release year: 2013
ISBN: 9789568209957
Language: Español
Publisher: Amanuta
This story by Oscar Wilde, illustrated by Marta Carrasco, was published by Editorial Quimantá in Chile in 1972. After the military coup of September 11, 1973, this publishing house was closed by the new government. 40 years have passed and Editorial Amanuta is reediting this book. Overlooking the city from the top of a column stands the statue of Prince Philip. It was entirely gilded with gold leaf; instead of eyes the statue has two gleaming sapphires; a single ruby shines in the hilt of his sword.
-----------------------------------------------
Esta histoira , ilustrada por Carrasco, fue pbulciada por la editorial Quimantu en 1972. Despues de la revolucion en Septiembre 11, de 1973 , Quimantu fue cerrada por el nuevo govierno. 40 años despues la editorial Amanuta esta publicando este libro otra vez, acerca de animales con illustraciones hermosas que capturan el cariño de los animales dibujados. Mirando la ciudad encima de una columna yace ahi la statua del principe Phjilip. Estaba vubierta con oro, en lugar de ojos tenia 2 safiros y un solo ruby en su espada.

Reviews