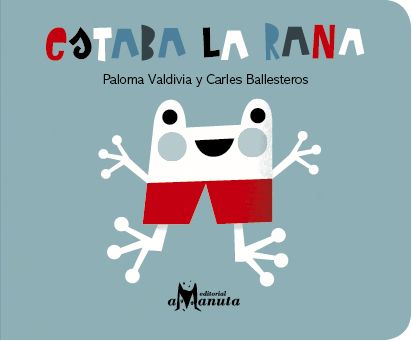 Estaba la rana
Format: Hardcover
Author: Paloma Valdivia
Release year: 2013
ISBN: 9789569330001
Language: Spanish

Publisher: Amanuta

This is a variation on the popular song "Estaba la rana debajo del agua" (There was a little frog under the water). With this book children can relate to a song that will encourage them to pronounce, repeat and memorize, allowing them to develop a reading experience from the very first months of their lives. We invite mothers, fathers, families and teachers to create an emotional link with baby through this book.
--------------------------------------------------------
Esta es un avariacion de la popular cancion "Estaba la rana debajo del agua". con este libro los niños se pueden relacionar con esta cancion, la cual les invitara a pronunciar, repetir, y memorizar, permitiendoles desarollar la hablidad de leer con la experiencia en sus primero meses de su vida. Invitamos a madres, padres, familiares, y a maestros a crear un link emocional con el bebe a traves de este libro.

Reviews