Kid Cyclone Fights the Devil and Other Stories / Kid Ciclón se enfrenta a El Diablo y otras historias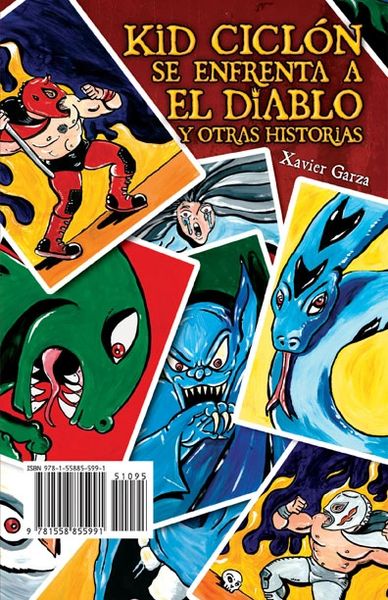 Kid Cyclone Fights the Devil and Other Stories / Kid Ciclón se enfrenta a El Diablo y otras historias
Format: Hard cover

Author: Xavier Garza

Release year: 2015
ISBN: 9781558855991
Language: Bilingual English and Spanish
Publisher: Pinata books

Maya and Vincent's uncle, Wrestler Kid Cyclone, is the toughest luchador in town.  Kid Cyclone's accidental boast leads to the most hellish fight of his career! This collection of stories featuring spooky characters from Mexican-American folklore for kids ages 8 – 12 is sure to lure even the most reluctant readers into its pages.

---------------------------------------------

Maya y el tio de vincent, el niño luchador ciclon, es el luchador mas macho en el pueblo. El alarde del niño ciclone conlleva a las pelea mas infernal de toda su carrera.Esta coleccion de historias el las cuales se encuentran tenebrosos personajes del folklor mexicano para niños de edades 8-12 es seguro a atraer hasta los mas amargados a leer sus paginas.

Reviews