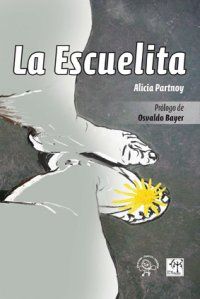 La Escuelita
Format: Paperback
Author: Alicia Partnoy
Release year: 2008
ISBN 9789871019311
Language: Spanish
Publisher: La Bohemia
Alicia Partnoy unveils the horrors of the dictatorship in Argentina during the 70's with her testimony as a victim and fortunately as a survivor after being captive in one of the camps called "La Escuelita". Her story is important today to give voice to the voiceless and the thousands of people who never saw their families again and most importantly, this book is important to create awareness to respect life in every aspect, opinions even if it differs from ours. 
----------------------------------------------------------------
Alicia Partnoy descubre los horrores de la dictadura en Argentina durante la década de los 70 a través de su testimonio como víctima cautiva en uno de los campos de concentración llamado Escuelita y afortunadamente hoy con su libro nos cuenta su experiencia como sobreviviente. La historia de Alicia es importante para dar voz a los que no la tienen y que nunca regresaron a sus hogares, este libro es una herramienta viva para crear conciencia sobre el respeto a la vida en todas sus manifestaciones y los diferentes modos de pensar incluso aquellos que no concuerdan con los nuestros pero que debemos respetar para ser una sociedad armoniosa y en paz.
Reviews