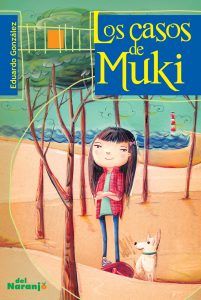 Los casos de Muki
Format: Paperback
Author: Eduardo Gonzales
Release year: 2013
ISBN 9789871343669
Language: Spanish
Publisher: del Naranjo
Muki, the brave detective of Mar of the Acasias, solves the strangest and hardest cases, with the company of Ismael, the park ranger, who asks her for help every time there is a problem. Nothing is impossible for Muki even if its the strange disappearance of the dogs of doctor Taibo, the mystery of the dogs with casts, or the kidnap of the chicken of the golden eggs.
------------------------------------
Muki, la valiente detective de Mar de las Acasias, resuelve los casos mas extraños que se le presentan, acompañada por Ismael, el guardaparque, quien solicita ayuda cada vez que debe enfrentarse a un problema. Nada es imposbile para Muki, ya se trate de la extraña desaparicion de lo chihuahas del doctor Taibo, del misterio de los perros de yeso o del secuestro de la gallina de los huevos de oro.
Reviews