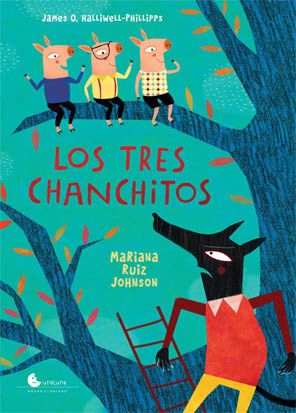 Los tres Chanchitos
Format: Hardcover (Bigformat) 13in x 10in
Author: James O. Halliwell-Phillipps and Mariana Ruiz Johnson

Release year: 2016
ISBN  9788494220500
Language: Spanish
Publisher: unaLuna
The classic story of the three pigs and the wolf. This book teaches children the value of hard work.
Specially designed for story telling. With all the text in the back for an adult to read to just one kid or a group of kids.
---
La clasica historia de el lobo con los tres cerditos. Este libro le enseña a los niños el valor del trabajo duro.
Especialmente diseñado para que un adulto cuente la historia a un niño e incluso a un gran grupo de niños, ya que el texto esta en una sola pagina la cual es muy flexible para leerla desde atras o desde enfrente.
Reviews