Super poderes: Nos hacen unicos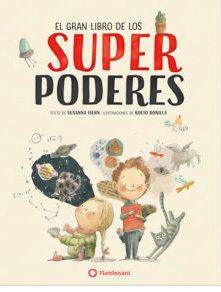 Super poderes: Nos hacen unicos
Format: Hardcover
Author: Susanna Isern and Rocio Bonilla
Release year: 2017
ISBN 9788494717376

Language: Spanish
Publisher: Flamboyant

We all have our own super power whether it be mathematics, reading, critical thinking, dancing, or singing and that makes us unique! This a prefect book for the children to learn that everyone is different and to not feel bad or down just because they are not good at one specific task because they could be better than other in another field and finding is part of the fun!
---------------------------------------------------
Todos tenemos nuestros propios súper poderes como las matemáticas, la lectura, el baile, o el canto y eso es lo que nos hace unicos! El libro perfecto para que los niños no se sientan muy tristes si no son muy buenos en una especifica acción o materia en la escuela ya que puede haber otras cosas en las que son mejores que los demás y aún no saben, descubrir tu súper poder puede ser una aventura.
Reviews