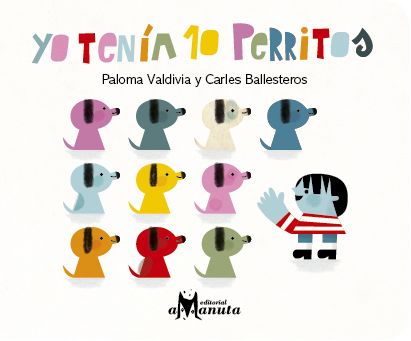 Yo tenía 10 perritos
Format: Hardcover
Author: Paloma Valdivia
Release year: 2013
ISBN: 9789568209995
Language: Spanish
Publisher: Amanuta

This is a variation on the folk song "Yo tenía 10 perritos" (I had ten little dogs). With this book youngest readers can discover colors and learn to recognize shapes, through a song accompanied by bright and cheerful illustrations. A kids' book that encourages parents, families and teachers to cultivate an emotional link with the baby in their life, and turn reading into a life-enhancing experience.
----------------------------------------
Esta es una variacion de la cancion folklorica "yo tenia 10 perritos". Con este libro los pequeños lectores pueden descubrir los colores y aprender a reconocer formas, gracias a la cancion acompañada de coloridas  y dulces ilustraciones. Un libro el cual alenta a los padres, familiares, madres, ymaestros a cultivar un link emocional con el bebe en su vida.

Reviews